Cover Colors
In Loving Memory Memorial Sign-in Book
A beautiful memorial sign-in book, with "In Loving Memory" inscribed on the cover.
Hand-bound with 48 sheets (96 sides) & page-marking ribbon
Archival, lined ivory pages with 2 columns of lines
Well constructed with durable sewn binding
Lays perfectly flat when open and stays intact for generations
10 x 8", horizontal/landscape orientation
The guest sign-in book has "In Loving Memory" on the cover in gold as default, or it will match the personalization color.
****************************************************************************************************
Shipping: we ship FAST. we ship EVERYWHERE.
We ship most items with in 1 - 2 days. Personalized Expedited/Overnight orders ship SAME DAY, if received by 1 pm Eastern on MOST items. (See below "In Hand. On time.")
To help you select the best shipping method, we offer several different delivery timeframes for domestic shipping.
UPS

USPS

US Standard Shipping

UPS Ground

(transit 1 - 6 shipping days)

Expect to receive in less than 12 days

USPS Priority

(transit 1 - 4 shipping days)

Expect to receive in less than 12 days

US Expedited Shipping

UPS 3 Day

(transit 1 - 3 shipping days)

Expect to receive in less than 5 business days

UPS 2 Day

(transit 1 - 2 shipping days)

Expect to receive in less than 3 business days

USPS Expedited

(transit 1 - 4 shipping days)

Expect to receive in less than 6 business days




US Express/Overnight

UPS Air Overnight

(transit 1 shipping day)

Expect to receive in 1 - 2 business days

USPS Air Express

(transit 1 - 2* shipping days)

Expect to receive in 1 - 3 business days

*some locations take 2 shipping days

International
N/A

International Priority

(transit 3 - 14 shipping days)

*Limited Tracking
Transit is the number of days the package is in shipment. The "up to x days" represents how many days in which you should expect to receive your order from the time you placed your order. Exclusions: some custom books with custom printed pages and logos; a few lines such as Rustic and Fresh. Shipping tab on product page notes if there are special time constraints specific to that product.
Shipping Costs: what is My shipping cost?
After you add your item(s) to your cart, use the shipping calculator to determine the various shipping choices and the costs associated.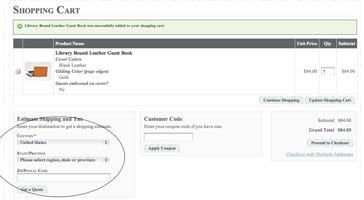 In Hand. On Time.
It is important to us that you receive your order in time, and we pride ourselves on being able to quickly accommodate our clients' needs and tight deadlines. In most cases, we are even able to accommodate embossed personalized orders so they arrive in 1-2 days with overnight shipping.
On time arrival: All time-sensitive orders must indicate the "due date" during check out (this date must match chosen shipping method to be considered valid). If you have questions about when you can receive your order, please do not hesitate to contact us. 866-708-7750 or service@blueskypapers.com
Next Day Shipment: Orders must be received by 1 pm eastern time to be considered for shipment the same day when available. UPS Air is the only shipper guarantee for next day delivery. Note: some products are not available to ship same day as order. To know if your order is eligible to ship same day, please call 866-708-7750. service@blueskypapers.com
Business days are Monday-Friday (excluding shipping holidays). Orders placed on Saturday and Sunday will be processed on Monday.
On time arrival is guaranteed to SHIP from of our facility in time for on-time delivery. While shipping delays are a very rare occurrence, we cannot guarantee on-time delivery by the carrier. Please give yourself an extra day, if possible.

INTERNATIONAL SHIPMENTS
Shipping is handled by USPS and has limited tracking. International purchases are non refundable. If you have trouble ordering an international shipment from our website, please make sure your country is selected from the drop down in the shipping calculator section. If you still have trouble, please email us the details of your order (by copying and pasting the details in the cart and emailing it to service@blueskypapers.com) in addition to your shipping address and we will send you a paypal invoice. Upon receipt, we will ship your order to your international address.
Customer Reviews
Very Nice Work... Review by

Rodney H.

Thanks. Very nice work. We got it today.

(e-mail, 3/15/13) (Posted on 4/8/13)

Perfect Review by

WellsFam

Just ordered this yesterday in sea satin with personalization in silver, and it already arrived today (2 day shipping was more like 1). It's a beautiful book. The split of lines down the middle of the pages is a little confusing, but I think we will ask people to write a few lines rather than just their names. I wish there were different options for fonts, but it still looks good. (Posted on 3/21/12)

delighted Review by

Marlene

I received the Memory Book and am DELIGHTED with the item. Not only is it much nicer than expected, but it arrived a day earlier than expected. I am totally pleased and impressed with Blue Sky Papers..
Thank you.............Marlene (Posted on 2/15/11)

lovely Review by

Sandy

It came yesterday and looks very lovely. Thank you for your help.

Best,
Sandy (Posted on 12/9/10)
You May Also Like...
| | | | | |
| --- | --- | --- | --- | --- |
| | | | | |