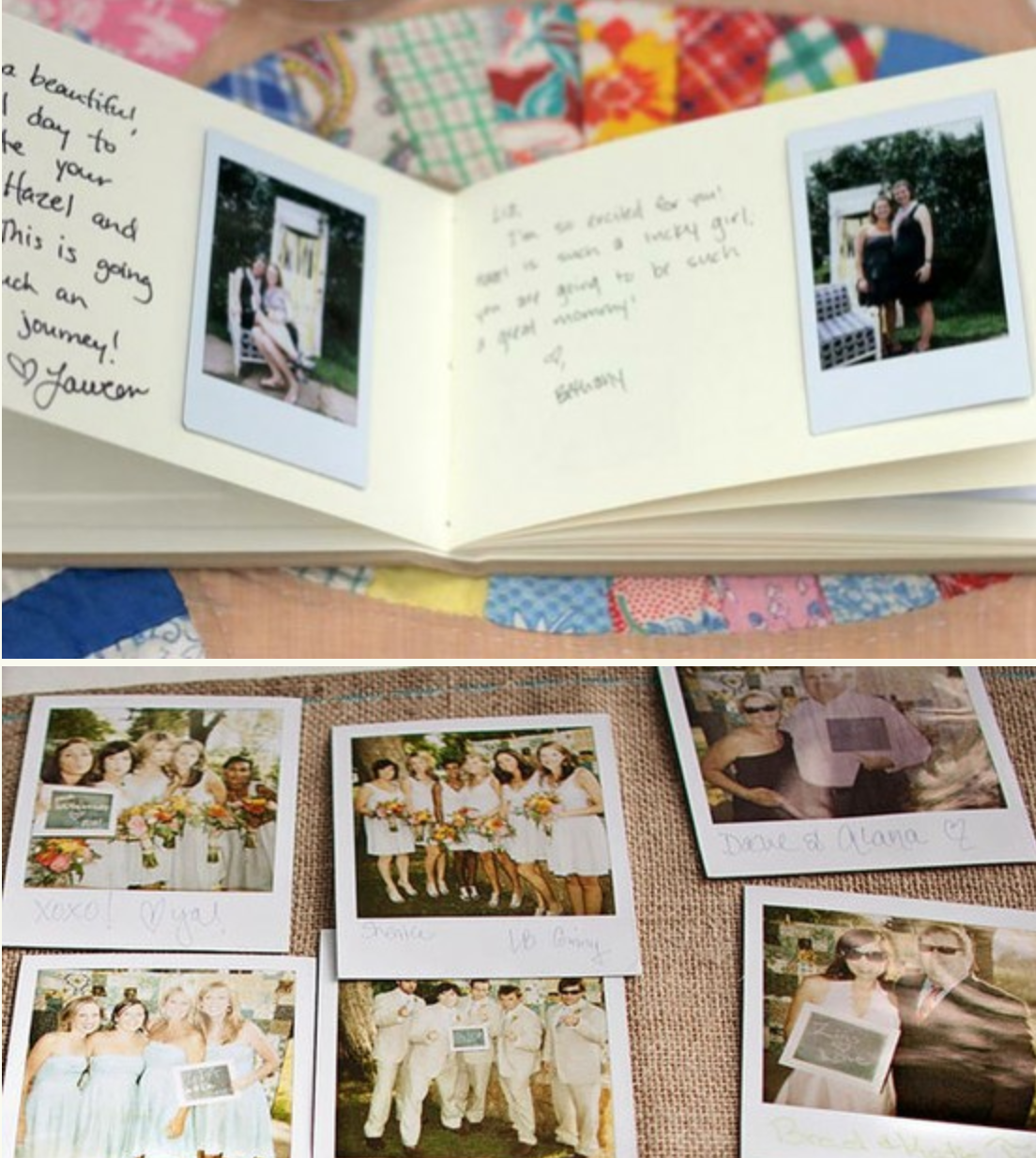 Have fun & create memories!
A remarkable way to capture the essence of your special day is to engage your guests with a Polaroid or photo booth guest book.  This fun, guest-centered activity will be a wonderful opportunity to record the spirit of the day from the guests' perspectives – and you will have a dynamic keepsake of fun photos and messages to relive, rather than a list of names.
(We have other blog posts that drill into more detail… just follow the links!)
How to create a Photo Guest Book?
1. Set up a "photo booth" area for the photographs to be taken
While a photo booth is lots of nostalgic fun, it can be a bit pricey.  Instead, try creating a DIY photo booth by decorating a space for Polaroids/digital photo booths.
Create your own "photo booth" by using a backdrop or by "setting the stage" – furniture, open frame, theme-oriented decoration etc.
Use fun props to loosen your guests up into showing some personality – such as large sunglasses, funny masks, etc. 
Or, ask your guests to leave a message or a "party yell" by having them write a witty message on a chalk board sign.
2. Keeping the Flow

Ensure the creation of your photo guest book is smooth by following these tips.
Ask one or more people to be your photo guest book attendant. By having someone responsible for the guest book, you can relax and enjoy your event. And you will be sure to have the treasured wedding keepsake to be created how you like.
Leave a sign with instructions on the guest book table or nearby so everyone will know what to do.  Chalkboard signs are lots of fun.  You can also print out a sign in large font and place in a decorative frame.
Set an example.  You and your fiancé can create the first entry to provide an example for the guests to follow.  Or, ask a close friend or family member to create the example.  (If you want your guests to be fun & light-hearted, your example should be this way.)
3. Photos in Book – Messages
The finishing touches are to take Polaroid pictures of your guests. Then, have them attach the picture to the pages and write a message next to the photograph.
Taking the pictures is easy with a tripod in your "photo booth".  Or, have the attendant walk around with the camera and book, taking your guests pictures/messages.
Attaching the photos is easy – use roller tape, photo corners, or other photo album accessories to get the photos on the pages.  Leave these out on the table for your guests to add to the book with plenty of instruction.
Or, to ensure proper use of space for photos and messages, it can help to place photo corners or photo sleeves in the space you want the photos to go before your event.

A fun idea is to put a copied photograph in the photo corners/photo sleeve of you and your fiancé holding a sign saying "your photo goes here,"perhaps wearing with silly glasses.
Another idea is to place a stamp, art, etc on the space where you want your quests to put their photo.
How to select a Photo Guest Book?
There is no "one size fits all" when selecting a photo guest book – this allows you creative freedom and control!  The best way to select a photo guest book is to find a paper page album you like.  These can be scrapbooks, photo albums with paper pages, etc.
There are a handful of things to consider when selecting the right paper page album/photo guest book for your wedding/event:
Pages need to be thick paper pages firm enough to hold photographs & allow for text without bleeding through
The spine needs to be built to accommodate dimensional items such as photographs.  Anything that says "photo album" should work.
Determine the number of pages needed in your photo guest book by seeing how many photos/messages can fit on a page.  Most albums will allow for 2 up on a page.  Then, considering families and couples sign together, determine how many pages you will need to cover your headcount.
Determining how to put the photos on the pages with the proper photo album accessories, such as photo corners or photo sleeves, is important and is covered below.
Having a photo guest book can be one of the more fun and unifying activities at an event.  And you end up with a keepsake book of your closest loved ones!