Well Wishes Memory Book
Item #: B-BSPWWMB
Our best selling keepsake book celebrating special occasions and people! Our personalized "well wishes" memory book captures a collection of well wishes, advice and messages to your honoree in an archival album. Capture your guests' messages on our luxe Italian message cards. Combine with photographs (optional), and you have a meaningful keepsake to last for generations.
Size: 9.25 W x 11 H x 1.5 thick (inches) - portrait / vertical
40 sides (20 individual sheets)
40 self-adhesive, luxe artistic message cards
Archival, thick cover in linen, satin or leather
Archival, thick white pages in cloth books and tan in leather
Concealed screw post binding ~ easy to expand
Book can hold *up to* 80 cards & photos prior to expanding
Window on cover for your photograph or note – 3.5 W x 3 L (inches)
This meaningful keepsake memory book can be easily created from afar or made at an event as a guest book. Great retirement gift!
we ship FAST. we ship EVERYWHERE.
OUR ON TIME COMMITMENT TO YOU:
Your satisfaction is incredibly important to us! Part of what makes us unique is how quickly we get our hand-made goods to our clients. It is of the upmost importance to us that we deliver your order on time. But we need your help! (scroll to continue reading...)

We can only guarantee orders will arrive on time if these three criteria are met...
1. the due date is provided on the order (provide this information during checkout in the "due date" field)
2. the order allows for the respective production time (read below on how to determine this)
3. the shipping method chosen supports ontime arrival (read below)
Business days are Monday-Friday (excluding shipping holidays). Orders placed on Saturday and Sunday will be processed on Monday. Orders placed after 1pm Eastern will be processed next day (of course we will try to ship it out anyway). On time arrival is guaranteed to SHIP out from of our facility in time for on-time delivery. While shipping delays are a very rare occurrence, we cannot guarantee on-time delivery by the carrier. Please give yourself extra time, if possible.
Questions or concerns about when your order will arrive? Contact us! 866-708-7750 || service@blueskypapers.com


RUSH & NEXT DAY DELIVERY:
Personalized/non-personalized orders may arrive next business day IF...
1) you select UPS Air Overnight
2) your order is received by 1 pm Eastern
3) you provide us with your due date during checkout
4) you call to confirm availability - 866-708-7750 (not all products are eligible for next day arrival)
**We are always eager to help... we often can accommodate orders after 1 pm eastern, so just try us! 866-708-7750 or service@blueskypapers.com
PRODUCTION TIME:
To determine the production time for the product you are interested in, please see the "Ships" quote on the product page, to the left of "ADD TO CART".
IMPORTANT: This quote is for production time only (in business days). The quoted time does not including time-to-ship. The transit time it takes to ship to you is in addition to the production time.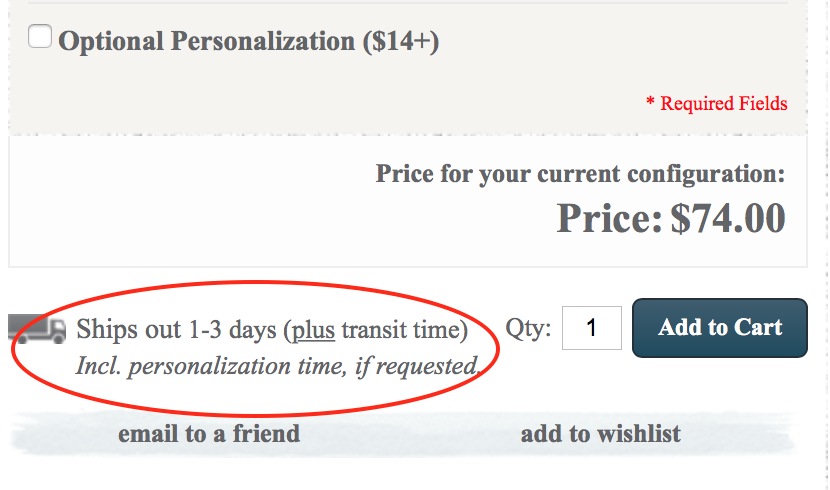 SHIPPING METHODS:
We offer several different delivery timeframes for domestic shipping. To help you select the best shipping method for your order, the chart below will show you the options and the shipping duration for each. UPS Ground widely varies depending on the location. Please call if you have a tight deadline for a UPS Ground shipping assessment to ensure on time delivery.
**Please note, shipping times may be best calculated by thinking of NIGHTS. For example, if you order an item on Monday, UPS 2 Day shipping would calculate the 1st "day" as Monday Night and the 2nd "day" as Tuesday night, for a delivery on Wednesday. **Saturday & Sunday are NOT shipping days**
UPS
USPS (US Postal)
Standard

Ground


(1-6 biz days)

Priority


(1-3 biz days)

Expedited

2 Day
(2 biz days)

3 Day
(3 biz days)

N/A
Overnight

Air Next Day


(1 biz day)

Express
(1-2 biz days)

International
N/A

International Priority


(5-16 biz days)
*Limited tracking
UPS and US Postal do not refund shipping costs if a delay is due to natural causes, such as bad weather.
SHIPPING COSTS:
After you add your item(s) to your cart, use the shipping calculator to determine the various shipping choices and the costs associated.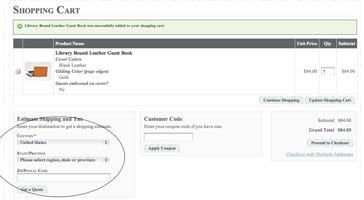 INTERNATIONAL SHIPMENTS:
International shipping is handled by US Postal with limited tracking. International orders are non-refundable. The international customer is responsible for any potential tariffs or customs charges upon arrival. If you have trouble ordering an international shipment from our website, please make sure your country is selected from the drop down in the shipping calculator section. If you still have trouble, please email us 1) the details of your order (by copying and pasting the details in the cart) and 2) your shipping address. We will send you a paypal invoice for the total. Upon receipt, we will ship your order to your international address.
Customer Reviews
Perfect! Just what I envisioned. Review by

Carrie A.

Thank you so much, Blue Sky Papers! I really appreciate it.

I received the books on Saturday and was able to put the memory books together over the past few days. They are perfect – just what I had envisioned. I'm sure the guests of honor are going to treasure these for years to come.

Carrie

(e-mail 10/02/12) (posted 11/26/12) (Posted on 11/26/12)

It is Beautiful. Review by

Shirley

Hi Courtney,
The memory book arrived in the late afternoon Tuesday. It is beautiful. My girlfriend and her family love it. Thanks again for helping me. Everything is perfect and very nice quality.
-Shirley R.
(e-mail, 03/28/12) (Posted on 6/30/12)

Pleased! Review by

Linda

Let me tell you how pleased the president was with her customized memory book. During her farewell, many,many people wrote wonderful things and well wishes. Photos, memorabilia were also given. Thank you.
-Linda R.
(e-mail, 06/13/11) (Posted on 6/28/12)

Looks great Review by

Arlene

I received my order and it looks great. However, the expansion pack was not included in the book.
Thanks,
Arlene S.
(e-mail, 05/16/12) (Posted on 6/27/12)

Excellent service! Review by

Kathy

I've never posted a review online before, but the special attention and personal service was so beyond expectations that I felt compelled to give praise! Courtney was absolutely great--she replied quickly to my questions and personally took care of a second "emergency" order when I realized I didn't have enough cards. I will get all my albums from this website in the future. (Posted on 11/2/11)

comparison Review by

LJ650

I couldn't determine the right book between this book and the "retirement keepsake" book. So, I bought them both and returned the retirement keepsake book because this one, the "well wishes" was perfect. Bc I didn't personalize the two books, returning this one was easy.

So, why did I choose the well wishes over the retirement book? While I liked this retirement book and thought it was fun, we were giving this to an executive at his retirement party which was a sit down dinner and very sophisticated. It didn't feel formal enough. We choose the well wishes because we wanted people to share messages, photos, letters, whatever. The pages are the right size (and layout - taller, not wider) for adding letters, photos, etc. Those cards are beautiful! And with this book, you can write whatever message (pages aren't printed like the retirement). The look of the two books was similar... this one is like a portrait photo - the retirement is oriented like a landscape picture. I ordered the brown leather, which I love. And the pages are tan - not cream/ivory - tan. The cards look really nice on these pages.

Overall, the styling, sophistication and appearance of the well wishes book is what led us to keep it. We ordered more cards - the book has 40 sheets and 160 cards and it still looks great. We also added other items and this works well too.

5 stars. Something we are proud to give.

hope this helps! (Posted on 4/26/11)

great service! Review by

sail away

Owner was very patient with me since I wanted specific needs, was very responsive and helpful to me. Beautiful quality of leather book, excellent binding to book and excecptional customer service. Will definitely order again from here! (Posted on 4/25/11)

Email & Response Review by

Kat

Email:
You all did a wonderful job of the memory book and fillers and cards for my Dad's
100th birthday party which we celebrated this weekend. Everyone loved the memory cards to write on.

Unfortunately, I went over board on ordering memory cards!!! I have some packages of unopened ones that have never been touched.

I was wondering if I could return them to you. As I said they have never been opened. How I miss calculated the amount that I needed was I forgot
that a couple would write their thoughts on the same card.

If I can return them just let me know what I should do.

Response:
We are happy to return/refund any extra unopened message card packs. Simply securely ship them back to us with a copy of your receipt and we will issue you a refund on the returnable goods. (Posted on 3/15/11)

beautiful Review by

mm

Got the book yesterday! Thank you -- it is beautiful. I know the shower will be even more perfect and fun for our mom-to-be
Thanks again
martha m (Posted on 3/11/11)

thanks! Review by

Bernadette

Thank you!! You're the best ;-)

My colleague loved her memory book! I am so happy we found your company and I very much appreciate your help picking the correct book. The memory book was the absolute best choice. I have ordered the expansion pack since we received so many wonderful hand written memories. Any chance we could get the order quickly? We want to put this together as soon as possible!

Have a wonderful Holiday!

Thanks again!
Bernadette (Posted on 12/10/10)

wish granted! Review by

bonnie


"Thank you for your prompt and personal attention with my order. The books look very elegant and fit the theme of the party this Saturday. Thanks, Bonnie"


- Bonnie Franklin
(2009 email) (Posted on 9/7/10)
You May Also Like...
| | | | | |
| --- | --- | --- | --- | --- |
| | | | | |