Blue Sky Papers Policies
The Art of "Wow"
We are passionate... obsessed even.... about the art of creating wow. Blue Sky Papers is dedicated to delighting people with stylish design & quality keepsakes, exceptional service, and super fast personalization & delivery. We want each customer to say "wow" out loud – whether it be on the phone with us, after visiting our website or upon receiving their keepsake at their door.
If you would you like to talk to someone or place an order over the phone, please do not hesitate to call. 866-708-7750. You may reach us directly 9-5 EST Mon-Fri. Calling outside those hours? Email us or leave us a voice mail and we will get back to you as soon as possible.
we ship FAST. we ship EVERYWHERE.
OUR ON TIME COMMITMENT TO YOU:
Your satisfaction is incredibly important to us! Part of what makes us unique is how quickly we get our hand-made goods to our clients. It is of the upmost importance to us that we deliver your order on time. But we need your help!

We can only guarantee orders will arrive on time if these three criteria are met...
1. the due date is provided on the order (provide this information during checkout in the "due date" field)
2. the order allows for the respective production time (read below on how to determine this)
3. the shipping method chosen supports ontime arrival (read below)
Business days are Monday-Friday (excluding shipping holidays). Orders placed on Saturday and Sunday will be processed on Monday. Orders placed after 1pm Eastern will be processed next day (of course we will try to ship it out anyway). On time arrival is guaranteed to SHIP out from of our facility in time for on-time delivery. While shipping delays are a very rare occurrence, we cannot guarantee on-time delivery by the carrier. Please give yourself extra time, if possible.
Questions or concerns about when your order will arrive? Contact us! 866-708-7750 || service@blueskypapers.com


RUSH & NEXT DAY DELIVERY:
Personalized/non-personalized orders may arrive next business day IF...
1) you select UPS Air Overnight
2) your order is received by 1 pm Eastern
3) you provide us with your due date during checkout
4) you call to confirm availability - 866-708-7750 (not all products are eligible for next day arrival)
**We are always eager to help... we often can accommodate orders after 1 pm eastern, so just try us! 866-708-7750 or service@blueskypapers.com
PRODUCTION TIME:
To determine the production time for the product you are interested in, please see the "Ships" quote on the product page, to the left of "ADD TO CART".
IMPORTANT: This quote is for production time only (in business days). The quoted time does not including time-to-ship. The transit time it takes to ship to you is in addition to the production time.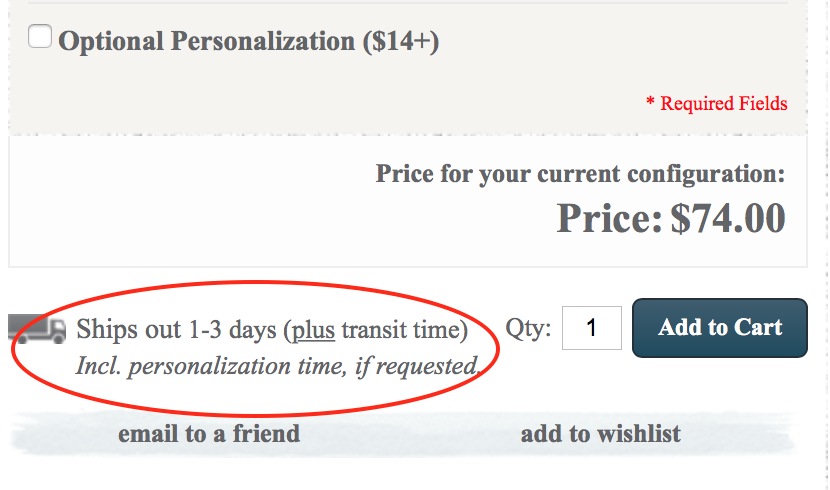 If additional information is available, it will be located in the SHIPPING tab/folder on the top of the product page.


SHIPPING METHODS:
We offer several different delivery timeframes for domestic shipping. To help you select the best shipping method for your order, the chart below will show you the options and the shipping duration for each. UPS Ground widely varies depending on the location. Please call if you have a tight deadline for a UPS Ground shipping assessment to ensure on time delivery.
**Please note, shipping times may be best calculated by thinking of NIGHTS. For example, if you order an item on Monday, UPS 2 Day shipping would calculate the 1st "day" as Monday Night and the 2nd "day" as Tuesday night, for a delivery on Wednesday. **Saturday & Sunday are NOT shipping days**
UPS
USPS (US Postal)
Standard

Ground


(1-6 biz days)

Priority


(1-3 biz days)

Expedited

2 Day
(2 biz days)

3 Day
(3 biz days)

N/A
Overnight

Air Next Day


(1 biz day)

Express
(1-2 biz days)

International
N/A

International Priority


(5-16 biz days)
*Limited tracking
UPS and US Postal do not refund shipping costs when a delay is due to natural causes, such as bad weather.
SHIPPING COSTS:
After you add your item(s) to your cart, use the shipping calculator to determine the various shipping choices and the costs associated.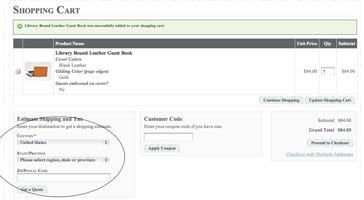 INTERNATIONAL SHIPMENTS:
International shipping price provided during checkout is an estimate. Orders with multiple items may be subject to additional shipping charges. Should your shipping cost be higher than what was paid during checkout, we will notify you prior to completing your order. International shipping is handled by US Postal with limited tracking. International orders are non-refundable. The international customer is responsible for any potential tariffs or customs charges upon arrival. If you have trouble ordering an international shipment from our website, please make sure your country is selected from the drop down in the shipping calculator section. If you still have trouble, please email us 1) the details of your order (by copying and pasting the details in the cart) and 2) your shipping address. We will send you a paypal invoice for the total. Upon receipt, we will ship your order to your international address.
CUSTOM LOGO & CUSTOM PRINTED PAGES:
These require 2 - 3 weeks for production.
ORDER PAYMENT:
Your card is charged at the time your order is placed because most of our products are custom or personalized. Orders may be cancelled with a full refund if we have not yet made/personalized your order.
ORDER TRACKING:
Once your order ships, you will receive an email with the shipping number and a link to track its progress. Or, you may log into your account and track your order there.
RETURN POLICY: we want You to be Happy.

We stand behind all of our products. We take pride in the quality of our work and that of the artists and partners we work with. If you are not satisfied with your purchase, we will do what we can to make you happy. Please contact us, 866-708-7750 || service@blueskypapers.com
Products returned to us in unsellable condition or damaged during shipping cannot be returned or credited. Shipping costs are not refundable. Personalized, custom and special orders cannot be cancelled or returned. International orders are non-refundable. We will accommodate exchanges on personalized orders if we have made a mistake, of course. Please call before returning an incorrectly personalized order so we can assess the best solution.
How to return your order:
Please return the item(s) in any applicable original box and/or packaging. Please print a copy of your invoice and include it in your shipping box so we know that the return is from you. Use your original box, or any plain, unmarked cardboard box to ship your return. Remove any pre-existing labels or stickers from the shipping box. Please return the items in original condition, carefully wrapped in bubble wrap and securely packaged with shipping supplies (such as packing paper or newsprint) to avoid movement in the box. If proper care has not been take to pack the return, it could get damaged during shipping. Damaged returns cannot be accepted. Ship your return using your preferred carrier, but for your protection, please insure and track your package.
Ship to:
Blue Sky Papers
Attn: Returns
11660 Alpharetta Highway
Suite 490
Roswell, GA 30076
Refund Processing:
We will process your return promptly upon receipt. Your refund will be credited back to the same card used to make the original purchase. Once your return has been received, you will be refunded less shipping and you will be sent an email confirmation that your return has been completed and the credit has been applied. It is at the discretion of your credit card company as to how long it takes to process your refund. As a general rule, it can take 2 to 10 days to receive your credit. We typically process your return in 1 to 2 days after receiving the item.
SALES TAX:
Orders shipped within Georgia will be taxed the current state tax (7%). If your order is shipped to any other state, you will not be charged sales tax.
PRODUCT PHOTO COLORS:
We have made every effort to display as accurately as possible the colors of the goods that appear on www.blueskypapers.com. However, the actual colors you see will depend on your monitor and we cannot guarantee that your monitor's display of any color will be accurate.
PRIVACY:
We value your privacy. Period. Read our Privacy Policy for more information about how we use your personal information.
SECURITY:
Blue Sky Papers does not store credit card number information. When ordering online, this information is sent directly to the authorizing banks.
All transactions are encrypted and checked for authenticity throughout the checkout process using appropriate privacy and security safeguards such as a Secure Socket Layer (SSL) technology. You can verify the security of our checkout pages (the only place where you would provide secure information) by seeing the httpS in our address in the browser. https - s stands for secure. The green lock will not appear because the passive content (like images) on our site is not secure. We did this so our partners could download our images.
All non-checkout pages are secure with the exception of images, which poses no threat of personal information being stolen by hackers. The threat with having "passive insecure content" is only to the website owners via the rare chance that hackers would trade our images with inappropriate images - there is no threat to visitors who shop, read or checkout on our website.
If you would like to place your order the old fashioned way, we'd be happy to take your order over the phone or by check.
QUESTIONS?
If you have questions about when you can receive your order, please do not hesitate to contact us. 866-708-7750 or service@blueskypapers.com