Personalized Velvet Ribbon Custom Book
Item #: B-BSPCUVR
Our personalized velvet ribbon book is a one-of-a-kind piece of art - classy and timeless. With lush velvet so soft it has a sheen, your personalization will be heat pressed into the ribbon leaving a deep impression for an elegant, soft-spoken customization.
Select from the options and colors available to create your own custom velvet book.
we ship FAST. we ship EVERYWHERE.
OUR ON TIME COMMITMENT TO YOU:
Your satisfaction is incredibly important to us! Part of what makes us unique is how quickly we get our hand-made goods to our clients. It is of the upmost importance to us that we deliver your order on time. But we need your help! (scroll to continue reading...)

We can only guarantee orders will arrive on time if these three criteria are met...
1. the due date is provided on the order (provide this information during checkout in the "due date" field)
2. the order allows for the respective production time (read below on how to determine this)
3. the shipping method chosen supports ontime arrival (read below)
Business days are Monday-Friday (excluding shipping holidays). Orders placed on Saturday and Sunday will be processed on Monday. Orders placed after 1pm Eastern will be processed next day (of course we will try to ship it out anyway). On time arrival is guaranteed to SHIP out from of our facility in time for on-time delivery. While shipping delays are a very rare occurrence, we cannot guarantee on-time delivery by the carrier. Please give yourself extra time, if possible.
Questions or concerns about when your order will arrive? Contact us! 866-708-7750 || service@blueskypapers.com


RUSH & NEXT DAY DELIVERY:
Personalized/non-personalized orders may arrive next business day IF...
1) you select UPS Air Overnight
2) your order is received by 1 pm Eastern
3) you provide us with your due date during checkout
4) you call to confirm availability - 866-708-7750 (not all products are eligible for next day arrival)
**We are always eager to help... we often can accommodate orders after 1 pm eastern, so just try us! 866-708-7750 or service@blueskypapers.com
PRODUCTION TIME:
To determine the production time for the product you are interested in, please see the "Ships" quote on the product page, to the left of "ADD TO CART".
IMPORTANT: This quote is for production time only (in business days). The quoted time does not including time-to-ship. The transit time it takes to ship to you is in addition to the production time.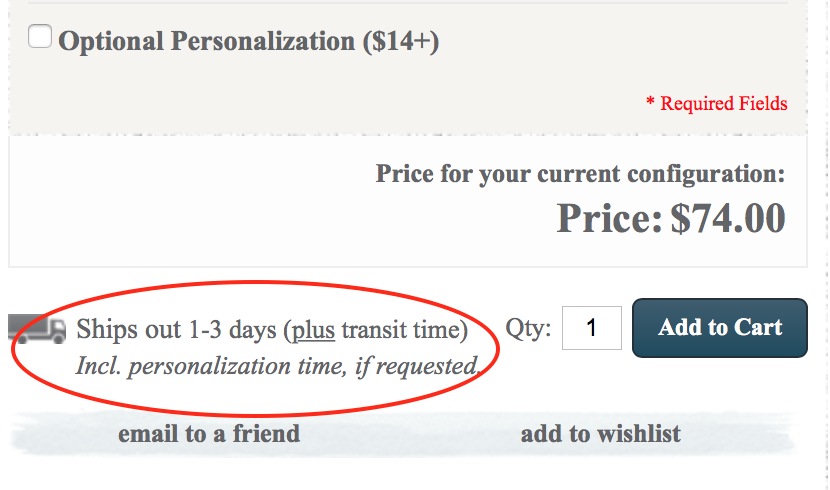 SHIPPING METHODS:
We offer several different delivery timeframes for domestic shipping. To help you select the best shipping method for your order, the chart below will show you the options and the shipping duration for each. UPS Ground widely varies depending on the location. Please call if you have a tight deadline for a UPS Ground shipping assessment to ensure on time delivery.
**Please note, shipping times may be best calculated by thinking of NIGHTS. For example, if you order an item on Monday, UPS 2 Day shipping would calculate the 1st "day" as Monday Night and the 2nd "day" as Tuesday night, for a delivery on Wednesday. **Saturday & Sunday are NOT shipping days**
UPS
USPS (US Postal)
Standard

Ground


(1-6 biz days)

Priority


(1-3 biz days)

Expedited

2 Day
(2 biz days)

3 Day
(3 biz days)

N/A
Overnight

Air Next Day


(1 biz day)

Express
(1-2 biz days)

International
N/A

International Priority


(5-16 biz days)
*Limited tracking
UPS and US Postal do not refund shipping costs if a delay is due to natural causes, such as bad weather.
SHIPPING COSTS:
After you add your item(s) to your cart, use the shipping calculator to determine the various shipping choices and the costs associated.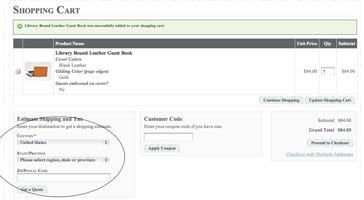 INTERNATIONAL SHIPMENTS:
International shipping is handled by US Postal with limited tracking. International orders are non-refundable. The international customer is responsible for any potential tariffs or customs charges upon arrival. If you have trouble ordering an international shipment from our website, please make sure your country is selected from the drop down in the shipping calculator section. If you still have trouble, please email us 1) the details of your order (by copying and pasting the details in the cart) and 2) your shipping address. We will send you a paypal invoice for the total. Upon receipt, we will ship your order to your international address.
http://www.flickr.com/photos/39924334@N02/sets/72157627700283905/
Personalization: Your one line of text will be in all caps, in a larger font. Ideal length is between 10 - 14 characters. First line is included in the price. An optional second line (+$12) will be in a smaller font, in upper and lower case font. Heat embossing leaves a deep impression in the velvet and there is a slight illuminosity change with the velvet flattening from the pressure and heat. This is a subtle, yet elegant, personalization.
Book Style Options: If you want to learn more about the type of books available (size, page count, etc) with this design, you may learn more 3 ways:
By clicking on the book styles image in the "more images" section under the main photo.
Under "Customize your keepsake" there is a drop down for BOOK STYLE. The more info link next to this will provide you with more information.
This CUSTOM BOOK page will tell you more about the options as well.
Customer Reviews
pretty Review by

Coco

Thanks! It came out so pretty :)

(etsy, 7/28/13) (Posted on 9/23/13)

It's perfect! Review by

Lisa

The album has arrived, and it is completely beautiful! Just the way we wanted it! Thank you so so much! It's perfect!

(Etsy, 07/04/13) (Posted on 7/8/13)

Amazing! Review by

Jessica

Amazing!!!!
You guys are the best. Thank you so much.

(E-mail, 06/13/13) (Posted on 6/24/13)

Love it! Review by

Catherine

Love it!! Thanks so much again!!

(Etsy, 06/11/13) (Posted on 6/12/13)

LOVE these Books! Review by

Angela

They are Beautiful! Thanks Again! I know they will be a big hit with our parents.

(Etsy, 5/10/13) (Posted on 5/29/13)

It looks so beautiful! Review by

Leila

I just received the photo guest book for my wedding, and it looks beautiful!! I love the embossing on the velvet! Thank you so much - we will cherish it for years to come!

(Etsy, 05/04/13)
(Posted on 5/9/13)

Thank You, Thank You, Thank You! Review by

Cara

THANK U, THANK U, THANK YOU! LOVE IT!!!!! will be back for sure. And also thx for the corners! Client is going to love it!!

(E-mail, 4/24/13)
(Posted on 5/3/13)

Looks fantastic! Review by

Jennie

Just wanted to let you know I have received the album and guest book and they both look fantastic. Well done, thank you so much. I will definitely be passing your info on to anyone who asks!

(etsy, 04/25/13) (Posted on 5/3/13)

It's Beautiful! Review by

Kristin

I received our book today and it is beautiful! Thank you!!

(etsy, 2/1/13) (Posted on 2/8/13)

Gorgeous book, wonderful quality, highly recommend!! Review by

Liza

I received the book yesterday - exactly when promised - and it was PERFECT! Gorgeous book, wonderful quality and exactly what I asked for. Thank you, it will be a wonderful addition to our party. I will definitely recommend Blue Sky Papers to anyone who needs your services in the future!

(e-mail, 1/15/13) (Posted on 1/30/13)

Gorgeous and Well Made! Review by

Anne

Hi,
I just received my photo album yesterday and it is so GORGEOUS and well made. Exactly what I wanted for our special wedding photos.
Thank you so much!!!
Best,
Anne

(Etsy 09/15/12) (posted 11/26/12) (Posted on 11/26/12)

Love it! Review by

Kerri D

Got it! Love it!

- Kerri D (Posted on 11/26/12)

Loved it. Ordering again. Review by

Amanda

Courtney-
About a year and a half ago you made this guest book for my husband and I. We were married 10-10-10 at 10:10. We loved it! We are expecting a baby boy and now paln to get a baby book to match.
Much appreciated,
Amanda M.
(e-mail, 03/23/12) (Posted on 6/30/12)

Looks Fantastic! Review by

Carrie

Hi Courtney-
I received the photo album on Thursday and it looks fantastic! Thank you so much in your quick response in correcting the original book. Your customer service is top notch!
Thanks again,
Carrie K.
(e-mail, 05/05/12) (Posted on 6/28/12)

Loved the Album Review by

Review by Etsy

Courtney,
Just wanted to let you know my mother loved the album I ordered from you. Definitely helped to make Mother's Day special. Thanks again!
- Ali L.
(e-mail, 05/15/12) (Posted on 6/27/12)

Prompt Service & Beautiful book Review by

Email

Dear Courtney,

The personalized guest book honoring Jim Lehrer's retirement arrived at our office today and it is just beautiful -- we know that he and his wife will be so touched to have this wonderful keepsake. Thank you for all you personally did to shepherd this request through so promptly and for your attention to the many details -- your kindness is greatly appreciated and we look forward to working with you again on future projects.

Kind regards,

MB (Posted on 6/2/11)

What A Keepsake Review by

Sue

LOVE my book. Arrived much faster than expected and is even more beautiful and perfect than I could have hoped for! Thanks so much! What a keepsake! (Posted on 4/19/11)

beautiful Review by

etsy

very beautiful guestbook!
(Posted on 2/24/11)
You May Also Like...
| | | | | |
| --- | --- | --- | --- | --- |
| | | | | |