With our personalization, you make your keepsake an honored keepsake! With embossed personalization, your text is pressed into your keepsake with color or no color, leaving a lasting impression.
Personalization Locations: Each book has different personalization location options. Here are the most common.
Embossing Fonts: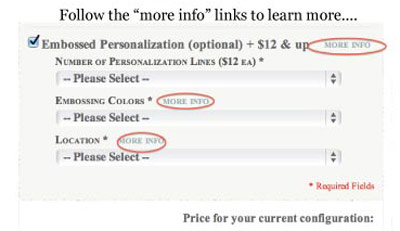 PLEASE NOTE:
Each item has different color, location and font options - not all options may be available for a particular product. To determine which options are available for any particular product, please refer to the drop down on the product's page.
See more examples of the personalization here.
Multiple lines are stamped center aligned in various locations, various colors and various sizes (we select the right size based upon item/length of text).
Indicate "and" or "&". Ampersands (&) will be used when indicated or if space savings requires it. Your order serves as the proof - please make sure it reads accurately.
All CAPS cannot be supported in some cases. Our script font cannot be in all caps, thus, we will change the personalization for any order placed for all caps script to upper/lower case script. Accent marks and "~" are not available. We have one font - Times new Roman, shown in photos - perfect font for embossing.
Learn more about our Personalization Options in our Personalization Section.
Still interested in learning about HOW embossing is accomplished? Check out a recent blog post by clicking here.