Memorial Guest Book, Keepsake of Memories
Item #: B-BSPMCGB
Celebrate the life of your loved one with a tribute and Memorial Guest Book, Keepsake of Memories.
Part photo album and part memory book, our memorial guest book captures your guests' handwritten sentiments and memories on luxe, Italian message cards in our elegant and archival album. Combine with photographs (optional) and you have a memorial keepsake celebrating your loved one's life.
Size: 11.25 W x 9 L x 1.5 H (inches)
40 sides (20 individual sheets) of blank, archival paper
1 title sheet with 2 sides of printed prompts to describe loved one
40 self-adhesive, luxe artistic message cards and photo corners
Archival, thick cover in linen, satin or leather
Archival, thick white pages in cloth books & tan in leather books
Concealed screw post binding ~ easy to expand
Window on cover for your photograph or note – 3.5 W x 3 L (inches)
we ship FAST. we ship EVERYWHERE.
OUR ON TIME COMMITMENT TO YOU:
Your satisfaction is incredibly important to us! Part of what makes us unique is how quickly we get our hand-made goods to our clients. It is of the upmost importance to us that we deliver your order on time. But we need your help! (scroll to continue reading...)

We can only guarantee orders will arrive on time if these three criteria are met...
1. the due date is provided on the order (provide this information during checkout in the "due date" field)
2. the order allows for the respective production time (read below on how to determine this)
3. the shipping method chosen supports ontime arrival (read below)
Business days are Monday-Friday (excluding shipping holidays). Orders placed on Saturday and Sunday will be processed on Monday. Orders placed after 1pm Eastern will be processed next day (of course we will try to ship it out anyway). On time arrival is guaranteed to SHIP out from of our facility in time for on-time delivery. While shipping delays are a very rare occurrence, we cannot guarantee on-time delivery by the carrier. Please give yourself extra time, if possible.
Questions or concerns about when your order will arrive? Contact us! 866-708-7750 || service@blueskypapers.com


RUSH & NEXT DAY DELIVERY:
Personalized/non-personalized orders may arrive next business day IF...
1) you select UPS Air Overnight
2) your order is received by 1 pm Eastern
3) you provide us with your due date during checkout
4) you call to confirm availability - 866-708-7750 (not all products are eligible for next day arrival)
**We are always eager to help... we often can accommodate orders after 1 pm eastern, so just try us! 866-708-7750 or service@blueskypapers.com
PRODUCTION TIME:
To determine the production time for the product you are interested in, please see the "Ships" quote on the product page, to the left of "ADD TO CART".
IMPORTANT: This quote is for production time only (in business days). The quoted time does not including time-to-ship. The transit time it takes to ship to you is in addition to the production time.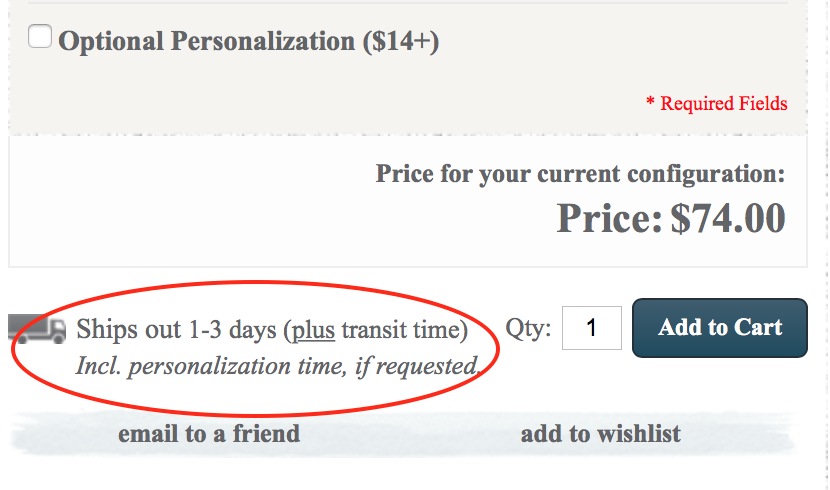 SHIPPING METHODS:
We offer several different delivery timeframes for domestic shipping. To help you select the best shipping method for your order, the chart below will show you the options and the shipping duration for each. UPS Ground widely varies depending on the location. Please call if you have a tight deadline for a UPS Ground shipping assessment to ensure on time delivery.
**Please note, shipping times may be best calculated by thinking of NIGHTS. For example, if you order an item on Monday, UPS 2 Day shipping would calculate the 1st "day" as Monday Night and the 2nd "day" as Tuesday night, for a delivery on Wednesday. **Saturday & Sunday are NOT shipping days**
UPS
USPS (US Postal)
Standard

Ground


(1-6 biz days)

Priority


(1-3 biz days)

Expedited

2 Day
(2 biz days)

3 Day
(3 biz days)

N/A
Overnight

Air Next Day


(1 biz day)

Express
(1-2 biz days)

International
N/A

International Priority


(5-16 biz days)
*Limited tracking
UPS and US Postal do not refund shipping costs if a delay is due to natural causes, such as bad weather.
SHIPPING COSTS:
After you add your item(s) to your cart, use the shipping calculator to determine the various shipping choices and the costs associated.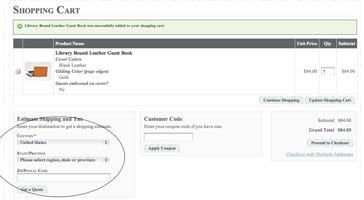 INTERNATIONAL SHIPMENTS:
International shipping is handled by US Postal with limited tracking. International orders are non-refundable. The international customer is responsible for any potential tariffs or customs charges upon arrival. If you have trouble ordering an international shipment from our website, please make sure your country is selected from the drop down in the shipping calculator section. If you still have trouble, please email us 1) the details of your order (by copying and pasting the details in the cart) and 2) your shipping address. We will send you a paypal invoice for the total. Upon receipt, we will ship your order to your international address.
Customer Reviews
Exceptionally Touching... Review by

Matthew's Family

It is never easy to lose someone you love, even more difficult when you are faced with making so many decisions in grief, while trying to figure out a way to commemorate the life of such a special lady to all. After losing our Mrs. Sally, who was not only a wife, mother, sister and "Grandee" to her own family, but expanded her heart and home to include many, many, more family members over the years, we knew only that we wanted to celebrate the essence of who she was in a personalized and unique way. By sharing our memories of her in this book, we can hold them close and remember her for years to come. The book arrived personalized within 24 hours in her favorite of the Mardi Gras colors (purple) and came with instructions and tips to help make the book successful. It sat among some of her treasures and trinkets, and was so incredibly touching for all to share in and smile, not a card was left! The experience with Blue Sky Papers was effortless and the quality of our memory book was exceptional. Highly recommend!! (Posted on 7/17/14)

It's Perfect! Review by

Stacy

Thank you so much for your help! The book just arrived and it's perfect!!!

(e-mail, 01/18/03) (Posted on 1/30/13)

Thank you again! Review by

Vicky

I wish more people were like you. My dads name, whom we will be celebrating on Saturday, was Courtney and he went by Court...Must be a God thing! Thank you again!
-Vicky B.
(e-mail, 04/02/12) (Posted on 6/30/12)

Exactly what we had in mind... Review by

Sarah

Thanks so much for the beautiful book. It was exactly what we had in mind for Mom's memorial service.
- Sarah F.
(e-mail, 03/05/12) (Posted on 6/30/12)

email 6/26/12 Review by

mg

I just wanted to thank you for your wonderful service. My mom passed away a few weeks ago and we are having her memorial this Friday. I was desperately wanting a good quality memorial book, and LOVE the album I ordered for photos and notes which people to write little memories. I am really looking forward to filling it. Your service was also very quick, I was worried that it would not come in time as I just ordered last week.

thank you again,
mg (Posted on 6/28/12)

special Review by

haleysmom

I received this book within 24 hours of my order - personalized too. When my father-in-law passed, I wanted something special for my husband and had the idea to have people share memories. It turned out better than I expected. This requires a little more thought than how a regular sign in book would be, however the result was so special! The book comes with instructions and tips to help make the book successful. I asked my daughters to hand out cards to people and that helped a lot. The leather is pretty and durable, which is helpful. I would recommend to anyone who wants something special to memorialize their loved one. (Posted on 1/26/12)

thank you! Review by

email from Christina

I got home tonight and saw the memorial book had just arrived. It looks beautiful. My father and my siblings will be very pleased. I've got a handful of photos of my mother at different happy events in her life that I will mount inside so people can see them when they write their thoughts. My boyfriend was very impressed with it too and asked how many websites did I have to go through before I found yours.

Thank you for your help. I will be sure to let other people know about your products in case they need any guestbooks or albums in the future.

Best wishes,
Christina
(Posted on 6/2/11)

assistance Review by

marg

We received the memorial guest book yesterday, as promised. Thank you very much for your assistance.—Margaret
(emailed, 2010) (Posted on 9/7/10)

sophisticated Review by

robert


"We did not like the guest book options at the funeral home. When we stumbled upon your site, we were relieved to find a beautiful, high quality guest book for our mother's funeral. She was sophisticated so why would her guest book be anything less? Thank you."
- -Robert Moran
(emailed, 2009)
(Posted on 9/7/10)

beautiful Review by

jackie


" Thank you so much. I received the book on Saturday and it was absolutely beautiful.. Thank you again for all of your help."
- Jackie Szesnat, JM&A Group
(emailed - 2009) (Posted on 9/7/10)
You May Also Like...
| | | | | |
| --- | --- | --- | --- | --- |
| | | | | |