Need an interactive and most importantly, free wedding mad libs printable for your guests? Well, have no fear. We've got you covered!
A lot of times, we get the chance to talk with our customers about how they plan to use their guest book at their wedding, and lately we've been hearing that our books are a great vessel for wedding mad libs that have been filled out by guests.
We wanted to provide a custom designed (and free!) wedding mad libs printable that would fit perfectly in one of our guest books. So we teamed up with Kaysie at A Day of K who graciously hand lettered "Advice for Newlyweds" and drew that adorable leaf garland.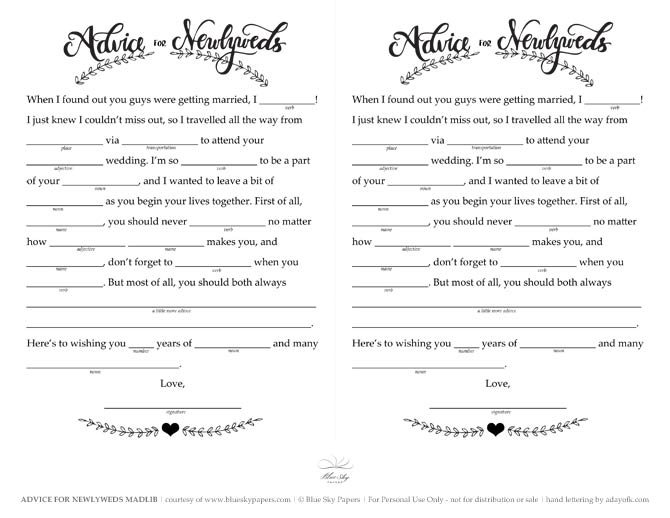 You can download our 'Advice for Newlyweds' free wedding mad libs printable here or by clicking on the above image. Keep reading to see how we suggest using these sweet little advice mad libs for your wedding.

Materials Needed
computer and printer
8.5 x 11 card stock – we used kraft paper
paper cutter or scissors
ruler
corner punches – optional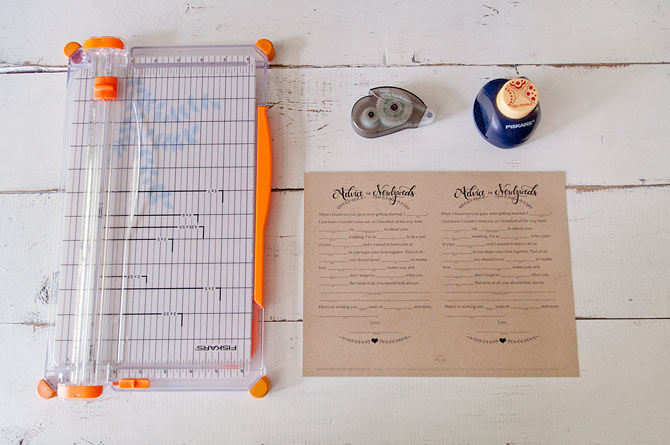 Free Wedding Mad Libs Printable: Printing & Cutting
1. open our 'Advice for Newlyweds' wedding mad libs printable
2. Print on a practice sheet of paper first – make sure to select "fit" on size options
cut your mad libs to size. We cut ours to 5×7 each, but left room in the design process if you want slightly smaller or larger mad libs.
3. Choose a corner punch, if desired, and test it out to see which corner detail you like best. We used a decorative corner punch, but a simple, rounded corner would look great too!
4. When you've picked a size and corner detail you love, print your final wedding mad libs on the paper of your choice. We went with a kraft paper card stock for a homespun and rustic look.
5. Cut your final mad libs to size, alter your corners, and you're done!
Free Wedding Mad Libs Printable: Display
We put the final mad libs in a vintage bowl, which would look great in the center of guests' tables with a pen and sign for instructions. This makes it easy for guests to put their finished mad libs back in the bowl so you don't have to send someone around to collect individual mad libs throughout the night.
Another option is to put the cards in the book before your wedding day and guests can fill out the cards at the guest book or escort card table.
Collection

Ask a trusted friend or family member to collect all the containers with finished madlibs at the end of the reception.
After the Wedding
Once you're back from your honeymoon and ready to look over everyone's sweet messages and advice, put your mad libs in your wedding guestbook. We like the idea of using our large artisan album in the vertical orientation. There's room for two mad libs and photographs at the bottom of the page! The mad libs also look great in our medium Artisan photo book, our post-bound albums with black pages, and our 9×12 horizontal classic archival albums.
Tip: Make sure you print out photos of your guests from your wedding day and attach them to the pages next to their mad libs. Another great option is to let your book double as photo booth guestbook!
Let us know if you print and use these wedding mad libs! We'd love to see how you use them! Be sure to visit Kaysie, who lovingly hand lettered the title on these printables. She'll be opening up an Etsy shop soon to offer her hand lettering services, so keep an eye out for her announcment!