Script fonts are beautiful for printing out your wedding vows and wedding calligraphy, but hiring a professional calligrapher can get expensive. Today, we are sharing with you 15 script fonts you can download for FREE to print out your wedding vows with.
Not everyone has an endless wedding budget to spend on everything they want to make thier wedding perfect, and hand-scripted calligraphy is pricey if you don't have the skill yourself. So here you are, you've splurged on a vow book, but know that you and your partner's handwriting is terrible. No worries! Follow this guide and  see the list of FREE script fonts at the bottom of this post to get FREE + beautiful wedding calligraphy.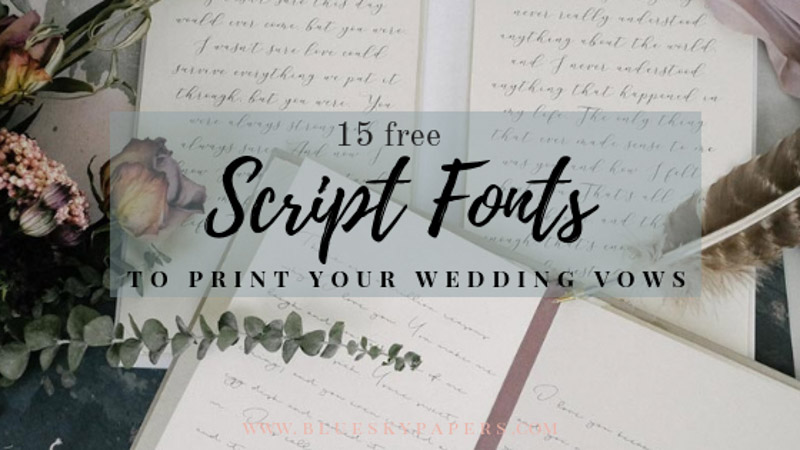 After you have chosen your font (below) and written your vows, open up a horizontal word document.  The dimmensions are a standard paper size, so no need to make changes to the document size or margins.
Then, select the button that will divided your paper into two columns (circled in red below). Type your vows out on each side. I suggest centering the text on each side, too.  After you have proof read, made sure the text is centered and the same size on each side and then you are ready to hit print. I HIGLY suggest a test run or two before you print on your nice vow book paper.

Printing vows for the Vow Portfolio:

If you are printing your vows for our Vow Book Portfolio (which only has the ribbon corners and no center page) you will take your printed vows and fold it in half. Give it a very light score on the folded edge, open the paper up and lay it flat to cut straight down the middle. Using a ruler or straight edge and a box cutter will help you achive a super straight and clean line.

The results are really pretty and folks will be none the wiser that this was a DIY.
Printing Double Sided for the Vow Holder:
If you do not have a printer that prints double sided to print your vows front + back on one sheet of paper you will have to print them out of order, and one sheet at a time. Follow the order below if you do not have a double sided printer
Each printer is different, so it is up to you to figure out which way to flip the paper to reinsert it back into the printer to print the next page. Be patient, and do some test runs on regular printer paper first. Try making a mark on one side of the paper and then run it through the printer to figure out which direction you need to face the vow paper.
Following this order, with the last part and the first part  of your vows on the outside of the page, and then the middle parts of the vows on the inside of the page. When vows are printed on both sides of the paper, you will be able to fold it in half, to insert it through the middle ribbon of the Vow Holder and read your vows just as you would read a book, each page from front to back.

15 Free Fonts to print out your wedding vows:
1- Claudia
2- Brev script:
3- Paduka script:
4- errata script:
5- Tamoro Script: 
6- Dearly script : 
7- Claire script:
9- Melinda script:
10- Hafizan Script:
11- Roaster Script:
12- Bitthai Script: 
13- Violetta script:
14- shopping script:
15- Frutilla Script :