Create the ultimate Vacation Home Welcome Book with this list of what to include and a free download sample welcome letter for tenants that you can edit. If you own a vacation home, Airbnb or any type of rental property, you absolutely need to have a a Welcome Book for your guest to flip through upon their arrival.
We've covered why it is important to have a Guest Book in your rental property in this post, here, but today we're here to talk about why you should have a Vacation Home Welcome Book, as well. We know getting together all of the information you would want to include in your welcome kit can be time consuming, so we've put together a list of what to include and free download, to make your job easier!
Having a welcome book full of useful information is a sure way to help your guest get their vacation off to a great start. Not only is it good old fashion hospitality, but it is a great and lasting first impression that will set the tone for your tenants stay. (And you know what they say, first impressions are everything!…You want those good reviews, right?!) Your guest will settle in quickly to their home away from home, knowing they are in a safe, clean and welcoming environment.
What do you include in your rental property Welcome Book?
Everyone's welcome book will be different, but they should all cover similar information. As well as, any information that is unique to your property and local area. Below is a good starting list of pages to include in your welcome book.
A welcome letter
House/property/community rules
Contact + local emergency contact information page
Transportation information. [nearest bus/train stop, how to catch a cab/Uber from your property etc.]
Local shops, food and things to do near by [keep this up to date and include local free events]
F.A.Q.

include any quirks or random information a guest may need to know about the property. i.e. : the back door handle needs to be turned up to lock all the way, etc.
Include how to take out the trash, run the dishwasher, turn on the t.v./work the remotes, etc.

Check out process/policy page
Try including different things in your welcome book that will make your guest experience staying at your place easier and more enjoyable. Things like, your favorite local take out menus for a night in or maps marked with fun things to do near by.
Over time, as you have more guest stay with you, listen to their feed back, what they tell you verbally and in your Guest Book. This will help you be a better property owner and host, as well as, give you an idea of other things to include in your welcome book.
How to put together your welcome book :
We suggest using a binder. This will be the easiest way for you to change out and keep your pages up to date. It will also be a way for you to hole punch any maps, menus or local guides you may want to include in your welcome book.
Quick tips:
use plastic page protectors like these to keep your Welcome Binder clean, organized and up to date!
include local maps, menuesand free passes to things locally, for your guest to enjoy
add tabs to your binder to keep it organzied and easy to navigate.
don't forget to ask your guest to sign your guest book too!
Welcome Letter Sample Free Download
Below is a link for you to download this free sample welcome letter. It is a word document, so as long as you have word, you will be able to edit this, print it out and add it to the front of your Welcome Binder.
P.S. : To edit this file, just download, open in Word and click on the text box. Highlight, delete and change what you don't need!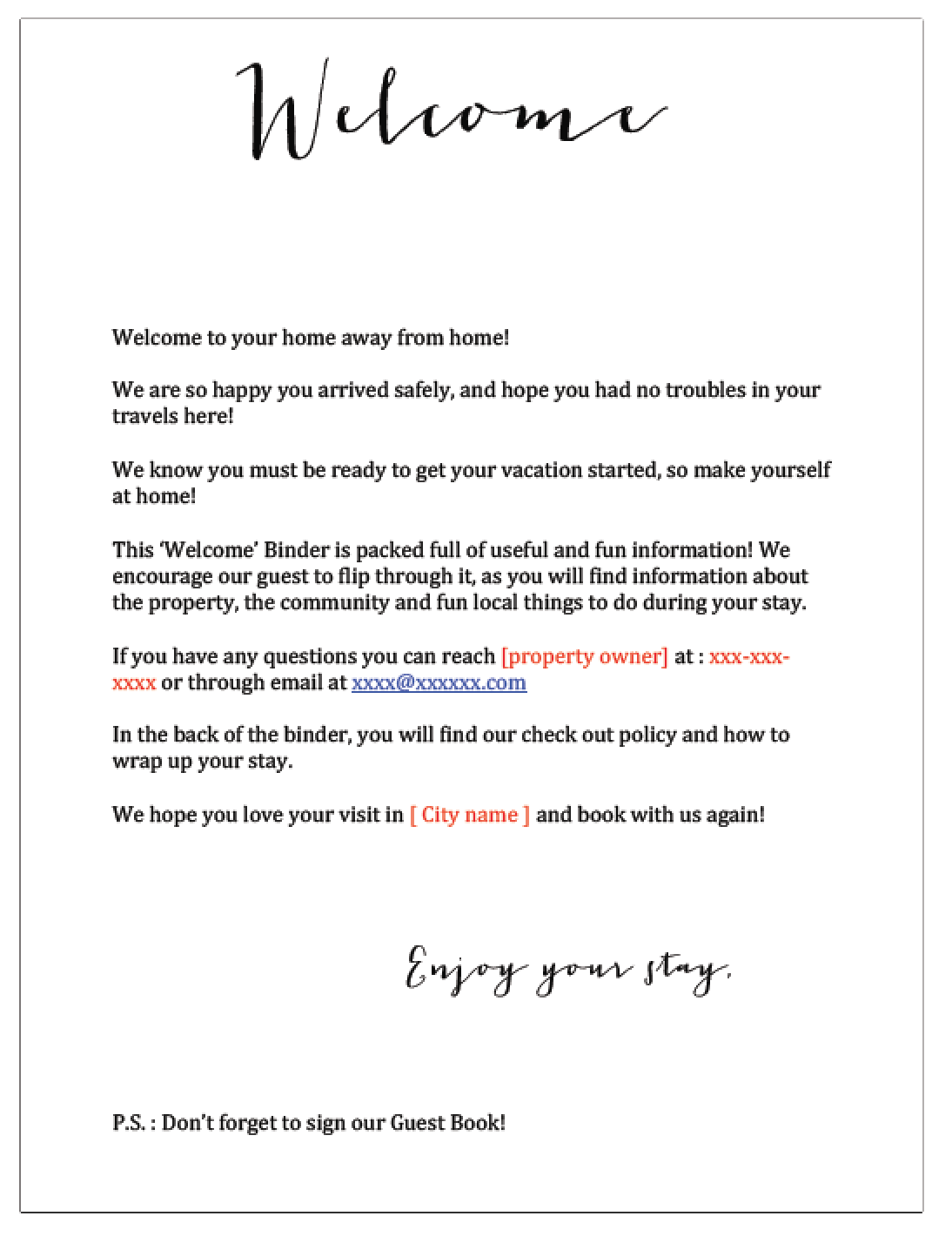 Vacation Home Welcome Letter *FREE* download (click here)
We hope this post helps you put together the perfect Welcome Book for your Vacation home, rental property or Airbnb. If we missed anything in this post, let us know and we can add to it! Also, if you create a welcome binder, we would love it if you shared a picture of it with us! You can tag us on Instagram at @blueskypapers, or add the photo to our Facebook page.