Planning any party can be overwhelming. With so many details and things to coordinate it can be hard to know where to start. When it comes to planning a graduation party, parents often feel pressure to 'get it right' and throw a "cool" party for their graduate. Today, we're sharing our Party Tips and Ideas for Planning a Graduation Party with a FREE Graduation Party Checklist to download!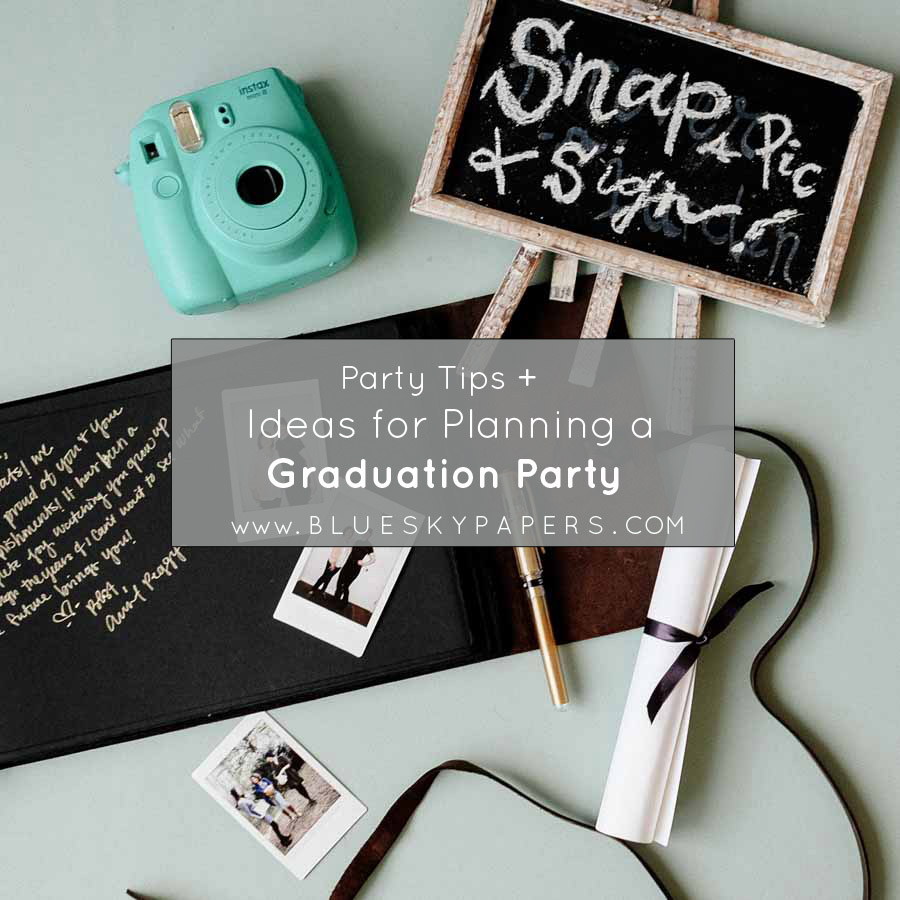 Tips for Planning a Graduation Party:
A theme. When planning any fun shindig, my first and biggest suggestion is to choose a theme and RUN with it! (The Alision Show is the master of coming up with a party theme.) When it comes to party planning, more-is-more and that means MORE FUN! So really go ALL out with your theme and incorporate it into everything- from foods, cups, décor, games, invitations, thank you notes, etc.  (See below for Ideas for your Graduation Party Theme.)
Games and/or entertainment are a must! I'm not talking old school board games either. Remember, is the generation that grew up with technology for entertainment, so it may take you getting creative to captivate this crowd. This will depend largely on your budget (which we will talk about next) but there are still plenty of ways to have fun + entertainment even with a small budget. If hiring a DJ or band aren't realistic options for you (that's OKAY), start brainstorming + searching for ideas centered around your THEME J For instance,
Budget! What's most important to you and the Graduate for this party? Is it the décor, the invites, a photo booth, entertainment, venue, swag bags, food, etc. Prioritize this list, and that will help you figure out where to spend your money. Things that fall lower on the list, get less of the budget. This will also help with other logistics. For example, maybe food is the last on your list- and that's okay to not want to spend a lot of money on food. Just don't plan your party around lunch or dinner, do it in the in between times and only offer light snacks + refreshments. ( I also suggest making this clear on your guest as well. Starting on the invite something like 'lunch will be served at 12:30' or 'Cake + Ice Cream + refreshments will be served')
Have a plan for the guests once they arrive. This kind of goes back to games and entertainment. Being the first to a party can be awkward, and even when you aren't the first, if the party isn't well planned out your guest will be sitting around awkwardly or standing like a wallflower waiting to see what they're supposed to do. As folks arrive, make it clear enough that they can figure out what to do when they arrive. Come up with something easy, yet fun to make a great ice-breaker too. This is where a 'photobooth' wall setup will come in handy. Set up a backdrop and props, have guest snap a picture with a polaroid camera and put it in + sign the guestbook for the event. You can also ask the guest to include their favorite memory with the grad! (psst!: this is also a great spot to leave a box for any cards the graduate may receive as gifts).
Decorate! It would be hard to have a great theme without any décor, but don't stress (or break the bank) with your party decorations. Get creative, and be resourceful! Create a Photobooth backdrop that fits in with the theme. Have the Photobooth props also be a part of the theme and it will also serve as décor. Also, choose games & entertainment that fits in with the party theme. Doing little, but simple things will go a long way. Like, changing the water bottle labels to match the décor and putting those out on the table will serve a function (drinkable) and fashion (party décor). Two birds, one stone!
Graduation Party Ideas :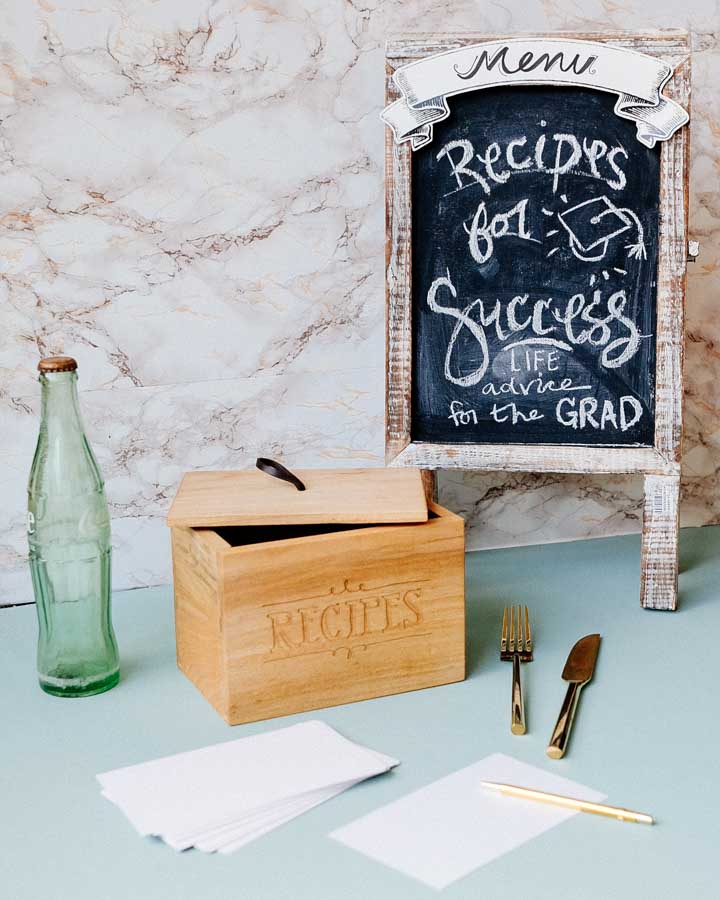 Theme : Cooking/chef party! Instead of a stock the bar party, host a stock the dorm party! Have guest bring kitchen + household staples to stock the graduate's dorm room and pantry for the first semester! Set up a 'Recipe for success' sign and have guest fill out tips for success that they have learned in life, so far. This is a cute alternative to a guestbook and a charming little recipe box for the grad to display in their new home away from home.
Theme : Adventure – Oh the places you will go book + Pong game. "Oh The Places You Will Go" by Dr. Suess is one of the most popular gifts out there for graduates and makes for a great, yet cheesy theme for a graduation party. Now, you don't want this to look kid-ish so lean more into the adventurous side of it.
Theme: Golden Grad Party with all things gold! Like these 2017 Gold balloon numbers that make for a great Photobooth backdrop and decor
Other Fun Graduation Party Ideas:
Sh*t just got real cupcakes:  and a poo emoji pool float (if it's not a pool party, you can use it as a prop for a Photobooth set up.
A trip down memory lane: Print out a pic. From each year of your student's life. Have guest write down their favorite memory with the grad…. Then save memories in a photo album alongside pictures of friends
Come up with a custom hashtag for the party for everyone to share their pics
Create a 'One Smart Cookie' dessert/cookie bar
Buy white napkins and roll them up into little 'diplomas' with a ribbon (matching the décor)