Baby Shower Keepsake Book
Item #: B-BSPBSKB
A unique twist to the classic baby book! Our Baby Shower Keepsake Memory Book is addressed to the baby but is written about the mother from her closest friends and family. Part photo album and part memory book, this baby shower keepsake book combines photographs and guests' handwritten sentiments in a fun and easy to create keepsake.
Your creators will be inspired to share and create memories with printed/prompted pages, such as:
"I hope you inherit your mother's…" and
"The best advice your mother has given me is…"
Baby Shower Keepsake Book Detail:
Book Size: 11.25 W x 9 L x 1.5 H (inches)
Window on cover for your photograph or art ~ 3.5 W x 3 L (inches)
Archival, thick cover in either linen or satin with white pages
40 acid-free pages (20 sheets) ~ 1 title sheet, 12 prompted sheets for handwritten messages, 7 blank sheets for additional photographs and embellishments
Concealed screw post binding ~ easy to expand
Your baby shower keepsake book is easy to make as a fun bridal shower activity, and it can even be made from afar!
we ship FAST. we ship EVERYWHERE.
OUR ON TIME COMMITMENT TO YOU:
Your satisfaction is incredibly important to us! Part of what makes us unique is how quickly we get our hand-made goods to our clients. It is of the upmost importance to us that we deliver your order on time. But we need your help! (scroll to continue reading...)

We can only guarantee orders will arrive on time if these three criteria are met...
1. the due date is provided on the order (provide this information during checkout in the "due date" field)
2. the order allows for the respective production time (read below on how to determine this)
3. the shipping method chosen supports ontime arrival (read below)
Business days are Monday-Friday (excluding shipping holidays). Orders placed on Saturday and Sunday will be processed on Monday. Orders placed after 1pm Eastern will be processed next day (of course we will try to ship it out anyway). On time arrival is guaranteed to SHIP out from of our facility in time for on-time delivery. While shipping delays are a very rare occurrence, we cannot guarantee on-time delivery by the carrier. Please give yourself extra time, if possible.
Questions or concerns about when your order will arrive? Contact us! 866-708-7750 || service@blueskypapers.com


RUSH & NEXT DAY DELIVERY:
Personalized/non-personalized orders may arrive next business day IF...
1) you select UPS Air Overnight
2) your order is received by 1 pm Eastern
3) you provide us with your due date during checkout
4) you call to confirm availability - 866-708-7750 (not all products are eligible for next day arrival)
**We are always eager to help... we often can accommodate orders after 1 pm eastern, so just try us! 866-708-7750 or service@blueskypapers.com
PRODUCTION TIME:
To determine the production time for the product you are interested in, please see the "Ships" quote on the product page, to the left of "ADD TO CART".
IMPORTANT: This quote is for production time only (in business days). The quoted time does not including time-to-ship. The transit time it takes to ship to you is in addition to the production time.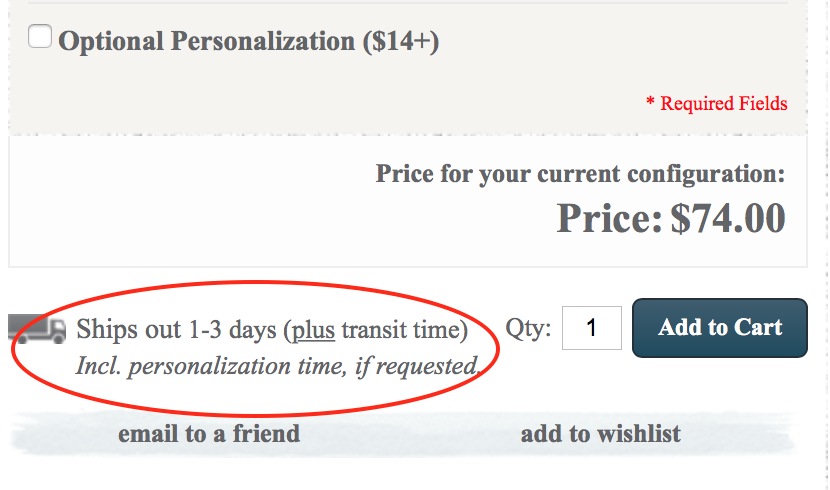 SHIPPING METHODS:
We offer several different delivery timeframes for domestic shipping. To help you select the best shipping method for your order, the chart below will show you the options and the shipping duration for each. UPS Ground widely varies depending on the location. Please call if you have a tight deadline for a UPS Ground shipping assessment to ensure on time delivery.
**Please note, shipping times may be best calculated by thinking of NIGHTS. For example, if you order an item on Monday, UPS 2 Day shipping would calculate the 1st "day" as Monday Night and the 2nd "day" as Tuesday night, for a delivery on Wednesday. **Saturday & Sunday are NOT shipping days**
UPS
USPS (US Postal)
Standard

Ground


(1-6 biz days)

Priority


(1-3 biz days)

Expedited

2 Day
(2 biz days)

3 Day
(3 biz days)

N/A
Overnight

Air Next Day


(1 biz day)

Express
(1-2 biz days)

International
N/A

International Priority


(5-16 biz days)
*Limited tracking
UPS and US Postal do not refund shipping costs if a delay is due to natural causes, such as bad weather.
SHIPPING COSTS:
After you add your item(s) to your cart, use the shipping calculator to determine the various shipping choices and the costs associated.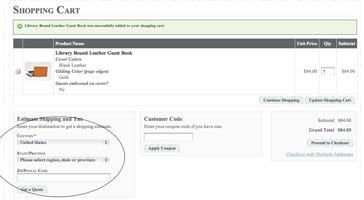 INTERNATIONAL SHIPMENTS:
International shipping is handled by US Postal with limited tracking. International orders are non-refundable. The international customer is responsible for any potential tariffs or customs charges upon arrival. If you have trouble ordering an international shipment from our website, please make sure your country is selected from the drop down in the shipping calculator section. If you still have trouble, please email us 1) the details of your order (by copying and pasting the details in the cart) and 2) your shipping address. We will send you a paypal invoice for the total. Upon receipt, we will ship your order to your international address.
Customer Reviews
fantastic idea Review by

debra

i can't tell you what a hit the baby book was at my daughter's shower, very impressive and easy to sort out before hand so that everyone could participate in posting a memory. we were able to have each guest sign the register page then go to a table loaded with baby scrapbooking stickers, different colored pens and the prompted pages. they had so much fun and got very creative with the memories for the new baby! my other daughter was able to use the book's pages to log in the gifts received and at the end of the shower, there was the completed tale for my grandson, all in one beautiful book with his name embossed on the front. thanks for offering such a fantastic idea!
-debra callahan
(email, 2010) (Posted on 9/7/10)

for my future grandchild Review by

helen

"Your baby book was created at my daughter-in-law's baby shower. It was really nice to be able to jot down my thoughts to my future grandchild."

-Helen Black, creator

Email sent to Blue Sky Papers, 2009
(Posted on 8/28/10)

thanks Review by

Melissa

" Thank you so much! I think my friend Shellie will LOVE this gift! "

- Melissa Jochims, host

thank you email, 2009 (Posted on 8/28/10)

been looking Review by

Jenn

"I've been looking for this exact thing for my baby shower, thank you for having such a beautiful book, can't wait to put it together!"

- Jennifer Poniatowski, host

thank you email from Jennifer, 2009 (Posted on 8/28/10)

thank you email Review by

christina

"Thank you very much. I am hosting a baby shower for my little sister. This will be the first grandbaby in our family. This will help make it very very memorable and special. :)"

-Christina Graham, host and sister

Email sent 2009 to Blue Sky Papers (Posted on 8/28/10)

neatest thing Review by

Serena

"Here are the pictures I took at the shower- thank you so much for the book!! Everyone loved it and thought it was the neatest thing."

-Serena Tejani, book host

(Posted on 8/28/10)

family heirloom Review by

Erika

"The baby shower book I received from Blue Sky Papers is a keepsake that I will cherish forever. My friends and I cried and laughed as we went through the pages of memories. I was very impressed with the quality and care that was taken in the creation of the book. This is not just a scrapbook, this is a very special family heirloom that you will want to pass down to your children and your children's children. We rarely take the time in life to write anything down - this book freezes priceless memories for your family to enjoy for many generations to come. Thank you!"

-Erika Joyner, new mom and recipient

(email from recipient - 2008)
(Posted on 8/28/10)

A letter to the host, from the new mom Review by

Niki

"Thank you SO VERY MUCH for overly generous gifts. You always go way above and beyond and spoil way too much. When I took all the gifts home that night, I rummaged through them and came across the most special one... your book! It brought tears to my eyes. No amount of money or gifts can replace that book. So much effort and love was put into creating the beautiful messages which graced the pages. I was touched and will cherish it forever! ... Most of all, thank you for being such a loyal, caring friend."

-Niki, recipient in a thank you letter to the host, Serena

(copied from old Blue Sky Papers website, from 2009)
(Posted on 8/28/10)

thank you! Review by

Jenny Leier

I wanted to say thank you for such an awesome idea. We just had my sister in law's shower and the baby shower book was a HIT!!! It turned out incredible. It was awesome to have this book as a testimony of how much we love her and "the perfect baby to come." I had family members that weren't going to make it to the shower and even my brother and her brothers sent in a couple of notes. And it just turned out GREAT! Your idea just made our shower so much more special!!!
I just wanted to take time out to say thank you for such a great gift idea. It really is so much more meaningful than just a normal guest book. There were many tears too!
And I will be an avid customer for a long time!!! Thanks again."
(Posted on 8/28/10)

I LOVE my book! Review by

Jill Abbott

I LOVE my book! I can't wait to use it at my sister's baby shower. You guys are awesome!

(2008, from old Blue Sky Papers website) (Posted on 8/28/10)
You May Also Like...
Regular Price: $78.00

Special Price: $56.00